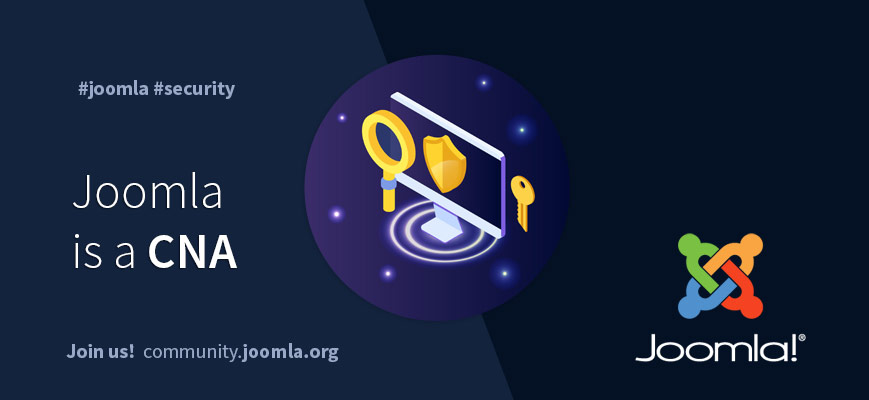 Joomla, one of the world's most popular Content Management Systems (CMS), announced today the CVE Program authorizes the project as a CVE Numbering Authority.
The CVE Program and Joomla are pleased to announce that Joomla is authorized as a CVE Numbering Authority (CNA). CNAs are organizations authorized by the CVE Program to assign CVE IDs to vulnerabilities affecting products within their distinct, agreed-upon scope.
Inside the Joomla Organization this is placed under the Joomla Security Strike Team (JSST) in the Production Department. Being a CNA allows the security team to collaborate more closely with the security community to grant Joomla and its ecosystem an even more secure CMS.
"We are very excited about this step. Being a CNA allows us to improve the quality of Joomla-related CVE Records– not only for Joomla core, but also for Joomla extensions."
says David Jardin, Joomla Security Strike Team Leader
"The CVE Board is pleased to welcome Joomla to the CVE Program as a CNA. Becoming a CNA shows just how seriously the Joomla Security Strike Team takes security. We are happy Joomlia has decided to join the CVE program and contribute to the international cybersecurity community efforts"
says Kent Landfield, Chief Standards and Technology Policy Strategist @ McAfee and Founding CVE Board Member

The CVE Program
Common Vulnerabilities and Exposures (CVE®) is an international, community-based effort that maintains a community-driven, open data registry of vulnerabilities. The CVE IDs assigned through the registry enable program stakeholders to rapidly discover and correlate vulnerability information used to protect systems against attacks. The CVE Program currently has 144 CNA's in 24 countries, globally across technologies and services.
About Joomla
Joomla is an award-winning content management system (CMS) used to build beautiful web sites and powerful online applications. A global volunteer community of developers has been building and improving Joomla since the first version was released in 2005. This immense effort has made Joomla easy to use, stable and very secure. Joomla is search engine and mobile friendly, multilingual, flexible and extensible. Offering unlimited design possibilities alongside industry leading security, Joomla also has thousands of third party extensions and templates allowing further customization to meet specific needs. Best of all, Joomla is an open source solution that is freely available to everyone.